This was a three day show, the 18-20 of July. There were three in my class, including me.
Day 1-- I opened the catalog and it was me, a bouvier and an english setter. My first thought was "Oh Crap! The judge wont even look at me!"
Well,I received Second place with Jared, a min pin.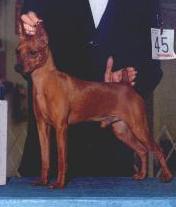 and there he is! This was a last minute situation so I just went ahead and worked with him and turns out he's a pretty cool little guy! The judge did look at me! and I recieved 2nd Place.
Day 2-- Well, our ring time was 1:40, we were the last ones to go in! They were on the 4th group by the time we finished! UGH!
I go to do my around and Jared craps in the ring. I get nervous and embarrassed! Jared just wasnt feeling good that day so he wasnt as showy. I got 2nd Place.
Day 3-- Last day and I start off with 0 wins! Im pretty po-ed by this point just because I havent been doing as good as I thought that I would. I go into the ring, Jared is happy and hoppin up and down and watching me like a hawk! Its awesome. I felt good about it and so did he. He looked good on the table, doin his little strut, and we go around and the judge points to me, 1st! I got my first win with a min pin! Woohoo! Go Jared!!